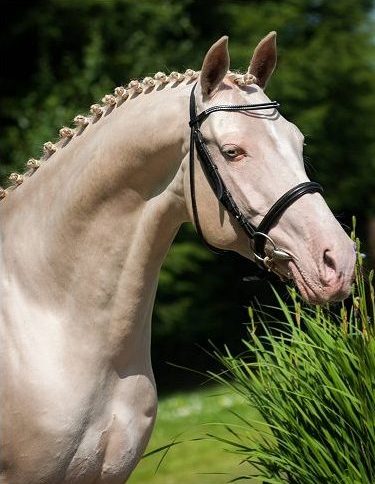 AES Licensed Perlino Akhal Teke Eventing Stallion
Looking for something different? Athleticism, elasticity, stamina, speed, agility, scope over a fence, excellent movement and a high percentage of blood?
Perlino Akhal Teke Stallion Kambarbay possesses all of the desirable characteristics of the modern event horse. In addition he has a beautiful head, well defined limbs, a well proportioned length of body and neck along with the metallic golden sheen to his coat for which the breed are also renown.
The Akhal Teke as a breed are famous for their great stamina, intelligence, speed, agility and bravery, the characteristics very much sought after for the eventing, endurance and all round sport horse.
Whilst the Akhal Teke appear to be light of bone, it is in fact exceptionally dense, designed to cover hard ground at high speed without sustaining injury. The Akhal Teke are renowned for not suffering soundness issues with exceptionally strong tendons and hardy hooves that require little maintenance.
Kambarbay is a stallion with nobility and refinement an elegant high blood stallion with the ability as a Perlino to pass on his dilute colouring 100% of the time.
Colour Genetics
Homozygous agouti and cream he will always produce palomino and buckskin foals from solid mares. He carries both the red and black factor and is homozygous agouti. He cannot produce smokey blacks
Kambarbay has competition results in the disciplines of British Dressage, Eventing and Show Jumping.
Movement
Kambarbay has very good mechanics, the trot is light footed with excellent flexion of the joints, he has good reach through the shoulder and sufficient length of stride. His canter is quick and light with excellent self carriage and his walk is long active and reaching.
Jumping
His jumping technique is tactile and quick, with excellent foreleg technique. He has more than sufficient talent for jumping. He covers terrain with ease and is very sure footed, he is bold and confident cross country.
Temperament
In addition Kambarbay's temperament is golden, he is a very gentle and obedient stallion attached to those he entrusts. He shows high intelligence and is very quick to learn. He has a submissive rather than a dominant temperament and seeks assurance from his rider/handler.
Progeny
Kambarbay has proven a popular choice with mare owners world wide and has been used extensively. He has progeny in Australia, Belgium, France, Norway The Netherlands, The USA and throughout the UK. He also has progeny that have been sold to Germany and Italy. At the AES Elite foal auction it was noted by the Brightwells auctioneer that they had never had as much interest in a foal from overseas as they had for Lanaken, with bids received.
He has crossed well with a vast variety of breeds with pleasing results, including KWPN, Selle Francais, Belgium Warmblood, Irish Sport Horse & Draught mares, Pure Bred and Part Bred Arabian, Spanish Breeds, Thoroughbreds, Pure Bred Akhal Teke mares, Welsh Native Breeds and Pony mares as well as mares of unknown origin.
Our clients have all remarked upon their abundant stamina and energy, with many commenting on a special aptitude to collect and extend within the gaits especially in canter coupled with ability to gallop, halt and turn with remarkable ease. They are exceptionally light footed and light of fore with good mechanics.
They have been described as being particularly close to people, bold, brave and inquisitive. They have faired exceptionally well at youngstock foal inspections and in the county show ring at the most prestigious events and has earned his reputation as a sire of Champions and high scoring premium awards both here in the UK and overseas. His eldest progeny are demonstrating their ability to perform well in sport.